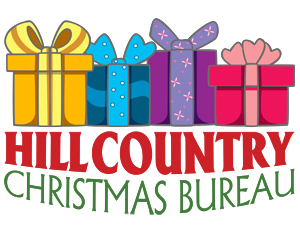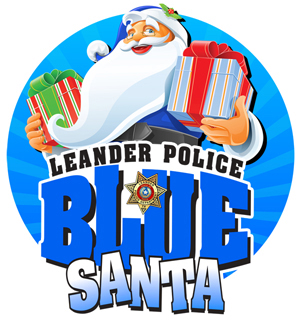 HILL COUNTRY CHRISTMAS BUREAU
LEANDER POLICE DEPARTMENT BLUE SANTA
Our on-line registration was very successful last year and since Covid and the flu are still a concern, we will continue to offer on-line registration this year! Nuestro registro en línea fue muy exitoso el año pasado y dado que Covid y la gripe siguen siendo una preocupación, ¡continuaremos ofreciendo registro en línea este año!
ON-LINE REGISTRATION: November 12th through December 8th

Please fill in all of the blanks on the registration form. Not filling in necessary information, like child's age, birthdate, school attended and most importantly, Christmas wishes only slows down the process. You will need to provide a proof of residence (within the Leander ISD boundaries). There will be a link to permit you to upload it to your registration. The proof of residence must include the name of the person listed as applicant. It can be any utility bill showing you are receiving mail at your residence. Not providing the proof of residence will delay your registration processing. If necessary, we will verify your child's school attendance with their school.
We do ask that you do not apply for assistance from more than one organization, as all of our resources will be limited this year due to the current economy. We will do our best to ensure that every child gets a wish or two this Christmas!
When we receive your application, we will send you a confirmation email within 7 days with the pickup location, date, time and your assigned Family number to present for gift pickup. If you do not hear from us, please send an email to:
HILLCOUNTRYCHRISTMASBUREAU@GMAIL.COM
Por favor, rellene todos los espacios en blanco en el formulario de registro. No completar la información necesaria, como la edad del niño, la fecha de nacimiento, la asistencia a la escuela y, lo que es más importante, los deseos de Navidad solo ralentiza el proceso. Deberá proporcionar una prueba de residencia (dentro de los límites de Leander ISD). Habrá un enlace para permitirle subirlo a su registro. El comprobante de residencia debe incluir el nombre de la persona que figura como solicitante. Puede ser cualquier factura de servicios públicos que muestre que está recibiendo correo en su residencia. No proporcionar el comprobante de residencia retrasará su procesamiento de registro. Si es necesario, verificaremos la asistencia a la escuela de su hijo con su escuela.
Le pedimos que no solicite asistencia de más de una organización, ya que todos nuestros recursos estarán limitados este año debido a la economía actual. Haremos todo lo posible para asegurar que cada niño reciba un deseo o dos esta Navidad!

Cuando recibamos su solicitud, le enviaremos un correo electrónico de confirmación dentro de los 7 días con la ubicación de recogida, fecha, hora y su número de familia asignado para presentar para la recogida de regalos:
HILLCOUNTRYCHRISTMASBUREAU@GMAIL.COM

MORE INFORMATION/Para más información:

Call 512-773-5878 or go to www.hillcountrychristmas.org
November 12th through December 8th